Since 1987, Softrol Systems has provided its clients with a variety of innovative, state-of-the-art solutions for numerous textile services industries. And like any business, Softrol Systems has developed and grown over the course of more than three decades.
With over 30 years of innovation under their belt, Softrol has become an industry leader within specific solutions such as material handling, process control, and even total plant integrated data. Here is a quick rundown of Softrol's most significant accomplishments.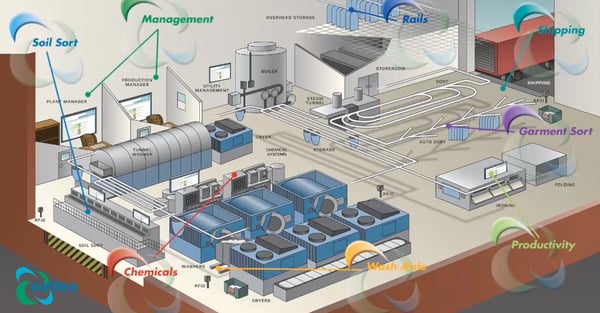 1987 - Softrol Systems Begins
Softrol Systems was incorporated all the way back in 1987. It was here that Softrol introduced three of its most prominent systems: the MicroPulse controls, ChemPulse chemical systems, and the PulseNet Management software.
1998 - Softrol Systems Expands
As we said above, every business has to grow and develop in order to succeed and thrive. And in 1998, Softrol Systems did just this as they expanded into the world of automated garment sorting options through both fully and semi-automated sorting solutions. These solutions were offered to a variety of industrial laundries.
2005 - A Softrol Systems Milestone
Seven years after expanding into automated garment sorting options, Softrol Systems installed its 500th chemical dispensing system as well as shipping its 500th machine control for wash aisle machinery.
2011 - Softrol Systems Expands Again
Expanding again in 2011, Softrol Systems installed its first automated rail system for both clean and soil solutions. In the past, we've delved extensively into automated railing systems with a past blog post. Click here to learn more.
2015 - Softrol Systems Introduces Its LOIS System
One of the most prominent and popular systems that Softrol Systems has to offer is its LOIS system. Short for Laundry Operation Information System, the LOIS smooth and efficient plant operations through real-time reporting, including:
Real-time alerts sent directly to your email address
Monitors critical plant functions and employee performance
Accessible with smartphones, tablets, and more
Ability to access multiple sites from the same user account.
Four years later, in 2019, Softrol Systems introduced the LOIS rail control with Pan-and-Zoom technology.