No matter what your business or organization is, we all want to thrive and to be the best. Whether it's running a corner shop antique store or a multi-million dollar video streaming service, we all want our operations to be meticulously perfect. But how does one measure their businesses' proficiency and efficiency while also determining their worth and overall value? The answer is simpler and easier than you would think.
Built on integrity and hard-earned discipline, Softrol Systems prides itself on providing the most efficient reporting systems that will aid in the improved overall plant efficiency. One of these ultramodern systems includes the infamous LOIS system. Standing for "laundry operation information system", LOIS is able to process and analyze data from your plant's operations, thus giving you the chance to manage and control what works and what doesn't. This system has been proven to increase any plant's overall efficiency, resulting in increased profits and improved management.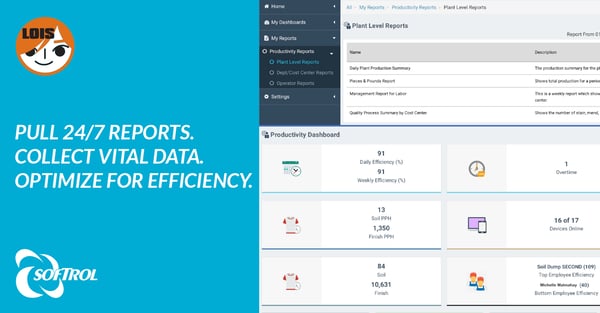 Like most businesses or organizations, washing plants have constant trouble managing and analyzing their plant's data and statistics. This may be because of the vast amount of data out there, or the data gets lost in translation due to poor software and technology. With Softrol's LOIS system, these are problems you won't ever have to face again. With a dashboard tailored specifically for each Softrol Systems solution, LOIS offers state-of-the-art technology that drafts reports from gathered and analyzed data and statistics.
With a simple and easy-to-use interface, the LOIS system provide the user with an easier way of reading and analyzing the data of their plant's proficiency. This allows the user to visualize what slows down their plant and what exceeds the rate of production.
It's easy to get lost in all the information about each process. From the actual software to the individual pieces of the interface, the LOIS system may seem like a complicated and convoluted system. However, Softrol Systems prides itself on offering solutions that are both proficient and user-friendly, all at the same time. The same can be said about the LOIS system, which provides an easy to use interface and advanced central reporting program that is remarkably straight forward.
The LOIS system also provides a variety of extra features that helps it stand out. With real-time texts and updates, the LOIS system gives you the option of keeping tabs on your plant's efficiency at any time of the day and from any PC, tablet or phone connected to the internet. This gives the user the opportunity to make sure that operations are running smoothly throughout the day.
Softrol Systems offers a wide range of solutions for any plant size that is easily expandable for your needs. Contact us today to learn how Softrol could improve your plant today.