At the heart of our automation solutions are Softrol's wash aisle controls. With our washer/extractor and dryer controls, process variables can be monitored and controlled to create optimum washroom performance. As an added bonus, the controls are available on new washers and dryers through several OEM manufacturers or as a retrofit to upgrade existing equipment.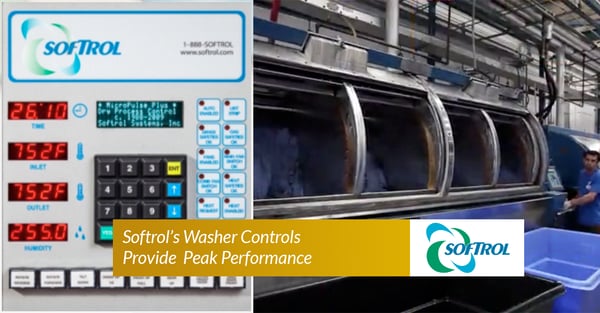 Softrol's wash aisle controls provide advanced programming capability to allow precise control of every step in the process. The advantage is a control that is tailored to your specific needs. Formulas may be customized to achieve the desired results with functions such as ratio-metric chemical/water additions, cylinder rotational speed control, and temperature control, or use our dryer temperature algorithm or humidity sensor system to reduce fuel usage.
Softrol's lineup of washer and dryer controls will also maintain safe and efficient working conditions with programmable alarms for conditions such as water levels, temperatures, RPMs and over-temperature detection. Other parameters may be used for machine diagnostics and preventative maintenance, such as maximum fill or drain times.
Some features of our Washer Controls include:
Programmable water additions by volume or level
Programmable temperature ranges
Up to 30 automatic signals for liquid chemical injection systems
Up to 50 programmable chemical names
Up to 128 programmable formulas
Thermo water fill capability
Alarms (watchdogs) for alerting operator of malfunction
Multiple flush signals for dry chemical injection
Eight level password protection
Modular design
Built-in diagnostic routines
Programmable maintenance intervals with alarms
Programmable from a PC
Some features of our Washer Controls include:

Easily programmable
Inlet/Outlet temperature monitoring
Adjustable drying time
Variable burner and proportional rates
Programmable inlet/outlet temperatures
Control monitoring of load conditions
Programmable algorithms to declare load dryness
Operator alarms for equipment malfunction
Programmable from a PC or laptop
Contact us to learn more about how Softrol could help improve your laundry operation, today.