Known throughout the industry as the primary leader in industrial-grade controls, Softrol utilizes an ultramodern wash aisle control system for stand-alone use or for fully automated wash aisles. Our accurate and intricate control designs have been developed to increase your plant's proficiency and process quality. These programmable controls allow precise and accurate algorithms for more efficient processing.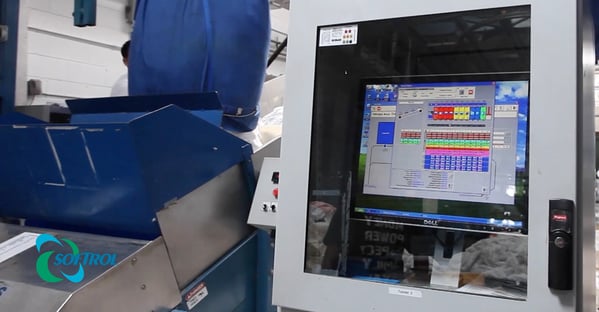 Washer Aisle Controls
Softrol prides itself on offering state-of-the-art wash aisle controls that give your plant the opportunity to operate at maximum efficiency, while seeing an increase in profit and a decrease in wasted time and human resources. Our washer controls give the user complete and precise control over every step of the washroom performance.
Washer Control
Softrol Systems wash aisle controls give the user an assortment of features to work with when it comes to maximizing their plant's total efficiency. Our wash aisle control system gives your plant ultramodern programming that can measure precisely a multitude of aspects that make up your plant.
Washer Control Features
For washer/extractors, our control software analyzes water levels, temperatures and even RPMS, and gives you the potential to measure all of these metrics in a precise and efficient manner. Our wash aisle controls have a variety of features:
Programmable water additions by volume or level

Up to 50 programmable chemical names
Up to128 programmable formulas

Alarms (watchdogs)
Thermo water fill capacity
Modular design
Programmable from a PC
Up to 30 automatic signals for liquid chemical injections
Programmable temperature ranges
Eight level password protection
Multiple flush signals for dry chemical injection
Dryer Controls
Softrol's dryer control does all of the load checking automatically, without ever opening the doors. When the alarm sounds the load is finished. No restarts, no lost time, and no lost energy. The dryer control can be programmed to automatically adjust the drying time based on the rate of temperature change throughout the formula.
Dryer Control Features
Inlet/Outlet temperature monitoring
Adjustable drying time
Variable burner and proportional rates
Programmable inlet/outlet temperatures
Control monitoring of load conditions
Programmable algorithms to declare load dryness

Operator alarms for equipment malfunction
Programmable from a PC or laptop
Wash Aisle Automation & Data Collection
In addition to manufacturing controls for stand alone equipment, we all provide complete wash aisle automation. We can automate or re-control your open pocket machinery and tunnel system equipment. Softrol washer and dryer controls can be networked with Softrol's communications package for individual machine communications or an entire washroom network. Both wet and dry process software products are part of Softrol's Management Information Suite. Additionally, our Laundry Operation Information System (LOIS) may be utilized for reporting of wash aisle process data that is viewed on any PC or mobile device connected to the internet.
Softrol Systems offers a range of solutions for every size plant that is easily expandable according to your needs. Contact us to learn more about how Softrol Rail could improve your plant today.