At Softrol Systems, we know that your plant's data and overall productivity are incredibly important. This is why we pride ourselves on manufacturing the best-in-class virtual systems to promote efficiency of your manual rail. With our virtual systems, your plant will load more accurately and have a better method to manage resources and production flow.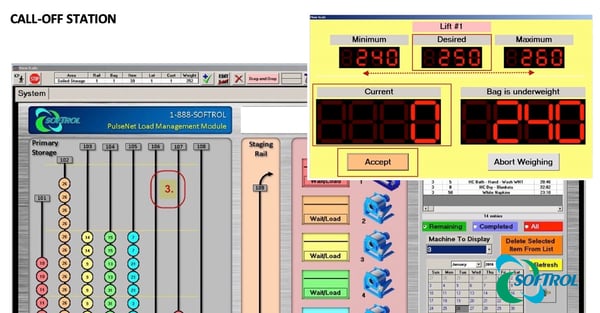 PVRM Vs. PLMM
Softrol has developed two virtual systems for your plant's manual rail operation. The first is the PVRM, PulseNet Virtual Rail Module. PVRM assembles the data constructed at your bag load station and displays a virtual view of your manual rail system. The PVRM takes into consideration the weight of the product going into the storage yard while also identifying the bag movement and customer/load data on-screen in real-time. This system allows you to schedule your production without any roadblocks, while preventing underloading and overloading at the scale.
Softrol's second virtual system is called PLMM, PulseNet Load Management Module. PLMM is specifically designed for customers with a Softrol controlled wash aisle. After the scale and storage process (PVRM), virtual bags are dropped into a washer, on-screen. The corresponding load data and wash formula for that bag is then transferred to the microprocessor of the specific washer. This, in return, allows automatic washer programming and enhanced reporting of the wash aisle processes along with load and customer data.
Increasing Proficiency With Virtual View
Both our PLMM and PVMM virtual systems have touchscreen operation that is easy to operate. With a virtual view of your manual rail system, these Softrol Solutions provide a much more manageable work-in-process for production planning.