For years now, Softrol has supported the laundry industry by offering monorail systems that are both functional and efficient, while providing superior process data to simplify laundry management. These systems have gone a long way in minimizing manual labor and opening up floor space, while increasing plant efficiency. With the combination of Softrol's hardware and software solutions, you will be able to manage your operation more quickly and efficiently.
Systems are customized to fit your facility and production needs to reduce time and energy. Solutions include soiled linen sortation, soiled linen storage and delivery, clean transport from wash aisle to drying system, and clean side storage and delivery. What sets Softrol Rail apart is our high degree of automation, mechanical integrity, superior control systems, and unparalleled commitment to customer satisfaction.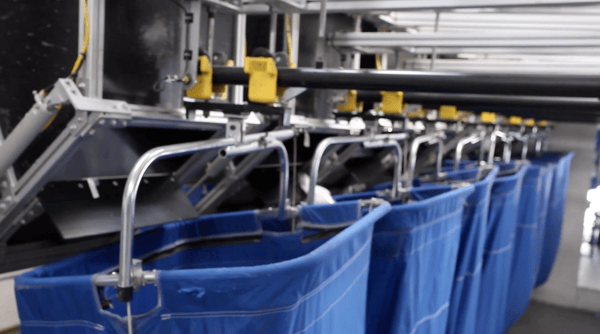 In today's environment, the need to operate efficiently is greater than ever. Modern plants have to ensure that the sorting department is carrying out tasks, efficiently and quickly.
Luckily Softrol has a sort deck solution to match any workflow and production demand. High volume plants will benefit greatly from sorting directly to carts, to belts, or from a fully automated sort-on-rail system.
The storage and delivery process is always running on a clock. With Softrol Rail, this process becomes much faster and ensures that you meet your deadlines quicker.
The strength of our rail system starts with the unique use of high-strength Melonited steel rail for durability and dependability. This structural integrity is maintained throughout the system to ensure long dependable service. Overall Rail design is geared toward meeting the needs of today with the ability to expand for tomorrow.
Softrol Rail is a reliable system that will store and deliver clean linen efficiently and quickly. Clean bags are selected at the high-speed panel and move automatically to the appropriate drop position.
Softrol also provides real time rail system information delivered through our advanced Pan & Zoom technology. It enables people throughout your organization to Pan over and Zoom in to view real-time data for individual bags or rail components. This helps improve decision making and troubleshooting which results in higher production and greater profitability.
Softrol Systems offers a range of solutions for every size plant that is easily expandable according to your needs. Contact us to learn more about how the Softrol rail system can improve your plant today.