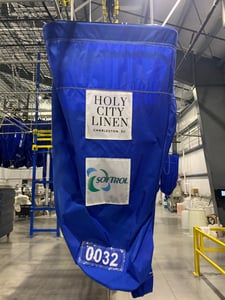 Holy City Linen - Mount Pleasant, SC, founded in 2016, prides itself on providing an eco-friendly dry cleaning process, being "the only 100% chemical free dry cleaners in South Carolina". To support the needs of their healthcare and hospitality customers, an expansion project was created to add production capacity.
Ann Son (CEO - Holy City Linen) worked with Barry Speizman (TLC Tri-State) to design a new laundry in N Charleston. The new $12.4-mil. laundry project was completed, this summer, and laundry production commenced at the new facility.
The goal was to provide hygienically clean customer-owned products in the most efficient and productive manner possible. Material handling automation and wash aisle automation were key to the success of the project.
Softrol Rail, a key component to production efficiency and labor savings, was incorporated to handle automation in the areas of soil sortation, soiled linen storage and soiled linen delivery to the wash aisle.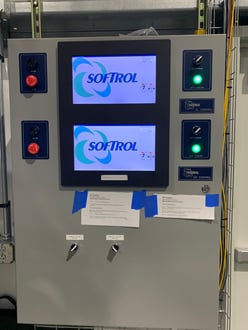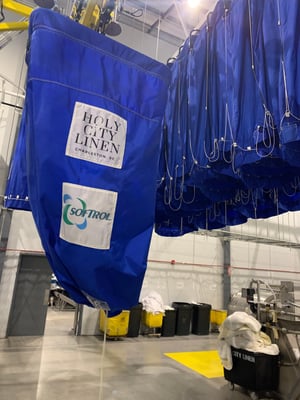 Softrol Rail utilizes and deploys a networked and distributed control system incorporating modular components. Softrol's LOIS Rail software, with Pan and Zoom technology, provides real-time visualization of the Holy City rail system, to scale. The operator is able to Pan-over and Zoom-in to individual rail system components to view item-specific data, I/O status and even to identify replacement parts and to generate an automatic parts quotation request. LOIS Rail also includes important features to track System Health and Preventative Maintenance.
Softrol Rail interfaces seamlessly with the continuous batch washer via Milnor DataFusion for automatic sequencing and loading of slings. Customer/load data is also transferred for automatic wash formula entry and load tracking.
Also included in this high-tech laundry design are a Milnor CBW PulseFlow tunnel system and Chicago Dryer flatwork finishing systems.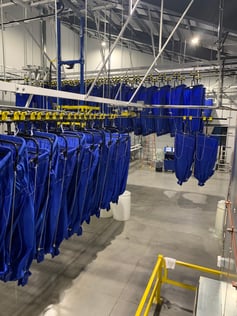 We thank all involved at Holy City Linen and TLC Tri-State for allowing us to be a part of this very successful project.