Tracking systems play an integral part in any modern plant management process. From tracking individual items to items in bulk, it's essential to know where your products are at all times. Softrol offers a variety of state-of-the-art tracking systems that improve your ability to manage production and inventories.
For cart tracking, Softrol offers the advanced PPS Cart. For individual items, we provide two systems that include MTrak, a matt tracking system, and SofTrak, a garment route accounting system. Each of these Softrol solutions has its own benefits and features for your specific plant management style.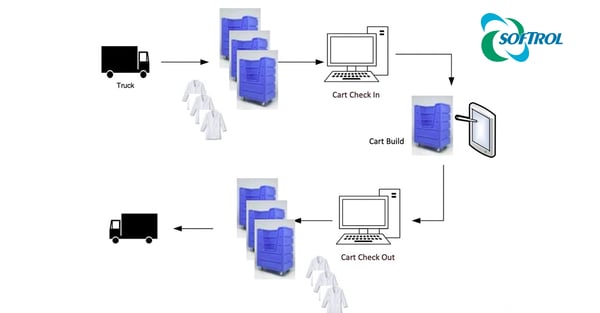 PPS Cart
PPS cart is an ultramodern monitoring system that has an assortment of features that include:
Real-time capture of return products
Cart delivery record
Export to the invoicing system
Electronic delivery of manifests
The PPS cart also includes a variety of optional features that can be additionally added if wanted. Some of these include:
Track carts & stop times
Invoice system interface
Route driver module
Cart ID by RFID or barcode
Softrol's Softrak
A route accounting system, the SofTrak is made to track individual items for your plant's success. SofTrak allow you to manage inventory levels for you individually tracked garments. The SofTrak system provides a wide range of features that sets it apart from other tracking systems.
Account management
Charging features
Garment & Non-garment related features
Inventory management

Route management and invoicing
Purchasing system
Reporting features
This only begins to scratch the surface of everything the SofTrak has to offer.
The MTrak
The final tracking system on our list, the MTrak is a mat tracking system that is utilized for optimized plant performance and proficiency. MTrak includes a number of features and benefits that sets it apart from all the other tracking systems. Some of what MTrak provides, includes:
Individual mat tracking with Barcode or RFID Chip
Customer & product history to advance decision making

Items assigned to specific customers
Control over rotating stock
Overdue Rotating stock due for return are identified

Ability to track customer and vendor related issues with products
Ability to manage processing costs and improve profitability
MTrak will significantly improve your plant processes.