A vital role in garment tracking, Softrol's SofTrak is a complete rental product management system for industrial and institutional laundries, who understand the value of identifying garments with either bar codes or RF chips. Modules used to enhance this solution include the following: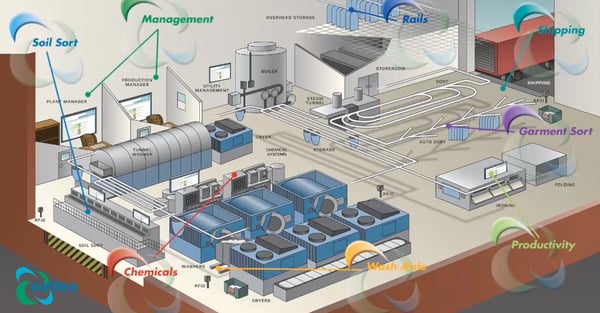 The primary module for SofTrak and is the interface for production employees, containing Usage Counts, Garment Assignments and Route Management.
Allows customer service employees to quickly manage all information about customer accounts
Designed to create and manager purchase requests - items can be automatically added to purchase requests through the stockroom work order process
Allows a plant to create and track customer charges, providing invoicing by delivery or by customer
Designed for the stockroom manager, allowing the filling of work orders from stock. It also works with the Purchasing module to order products that are unavailable from the current inventory
Contains a highly flexible Reporting module unique to your business requirements. Virtually any report can be created to meet the requirements of your business
Online and live view for your customers. It allows one to see current product delivery schedules, invoices, and requested changes in the garments assigned to their employees.
These virtues only begin to scratch the surface of everything Softrol's shipping and routing solutions are capable of. They can even allow your route driver to manage all of their deliveries for the entire day by using our online route interface.