In this day and age, we live in a constant flux when it comes to technology and how it shapes the way we conduct business. Technology is continuously evolving due to increased demand for precision and efficiency.

Softrol Systems prides itself on offering state-of-the-art solutions that contribute to plant efficiency and proficiency. Progressions in automated chemical dispensing equipment have made us an industry leader. One of these outstanding products is the infamous Catalyst XT System. Catalyst XT is manufactured for medium to high volume plants to process a light to medium soil mix.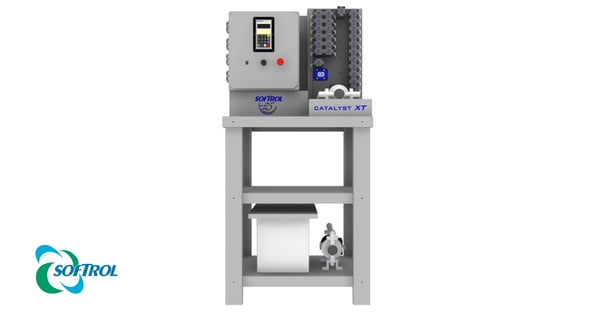 The Catalyst XT System Design
Like all of our chemical solutions, Softrol Systems takes immense care and patience when it comes to manufacturing excellence. Catalyst XT is able to deliver ten chemicals to support up to fourteen washers. With its small footprint, the Catalyst XT System can be placed anywhere for easy access. This unit also comes with our advanced Catalyst software that enhances programming and process reporting, providing data and statistics quickly and accurately.
Benefits And Features Of The Catalyst XT System
As with all Softrol's chemical solutions, the Catalyst XT comes with a variety of features and benefits that help improve the efficiency of your plant while reducing costs and wasted human resources. We designed our Catalyst XT system to utilize flow meter-based injection technology providing volumetric injection and water flush verification. With a shared pump system, it also handles more work in a smaller space.

Our compact Catalyst XT chemical injection system provides superior precision and accuracy for our many customers. Its ability to monitor, alarm, and report also makes Catalyst XT software an important tool for management. Visit our Catalyst Webpage for more information about this highly popular chemical dispensing solution.