Chemical systems play a pivotal role in any plants management and overall efficiency. A leader in the industry, Softrol Systems prides itself on providing innovative automated chemical dispensing equipment. With our Catalyst chemical injection systems, Softrol has founded immense success with both precision and efficiency.
With an assortment of designs to choose from, each tailored for your specific plant requirements, Softrol stands out from the rest. Catalyst includes state-of-the-art technology; such as, a real-time display, advanced reporting package, and even alarms and alerts for chemical delivery failures.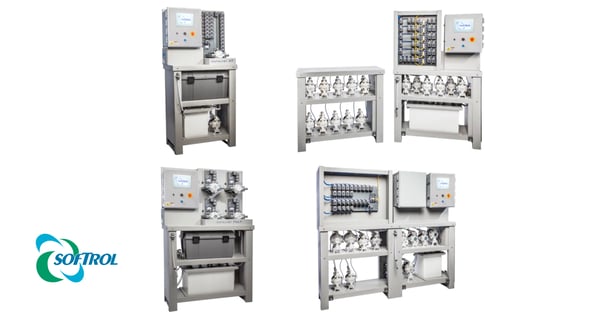 Catalyst Chemical Injection System Features
Softrol's Catalyst includes a variety of features and benefits, each specifically tailored for an assortment of plant requirements. One of the features that separate our catalyst systems from the rest is our PCIM software. Short for PulseNet Chemical Injection Module, the PCIM is specifically designed to let the user remotely fulfill various tasks such as:
Programming Injection Formulas
System Monitoring
Reporting Process Load Efficiency
Reporting Formula Run Times
Reporting Formula Chemical Usage
Catalyst also provides the ability to:
Connect With Any Type Of Machine Control
Program Injection Formulas
Utilize the Simple Calibration Features
Control Flow Rates From 0.2 gpm To 4.0 gpm
Obtain Data Recording And Management Reports
Benefits Of The Catalyst Chemical Injection Systems
Softrol designed our Catalyst systems with precision and proficiency in mind. Paired with our real-time display and an advanced report packaging, the Softrol Catalyst comes with a number of benefits that include:
Verified Metering
Production Information Records
Ability To Dispense High Volumes And Viscocities
Redundant Chemical Delivery To All Washers
Softrol Systems offers a range of solutions for every size plant that is easily expandable according to your needs. Contact us to learn more about how Softrol Rail could improve your plant today.