Technology has come to change the operational activities of businesses and plants. The faster and more efficient your processes are, the better and easier it is to operate. Every business turns to technology for easier and faster operations.
It is for this reason that Softrol sought to provide plants with automated solutions. For years now, we have offered precision in our designs, high-quality materials, and customization.
One of their most popular solutions is the Catalyst family. It is a range of chemical injection systems customized for different plants to enhance the laundry operation process. Because it is available in many configurations, the Catalyst is an excellent fit for any laundry.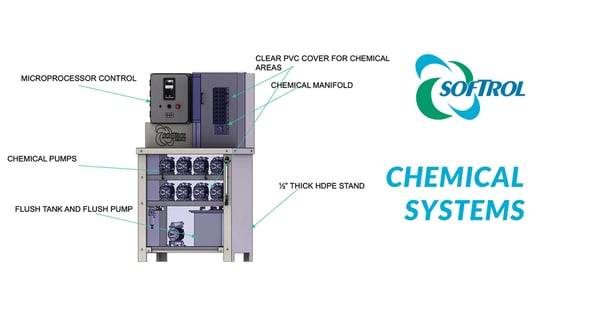 Chemical delivery systems should give you peace of mind, and that is precisely what you will get with the Catalyst System. Reliability comes through a superior design and the ability to provide full redundancy, a unique feature that every plant manager will be glad to have.
Key Catalyst Design Features:
A range of models for use in any laundry operation

Accurate flow metering for all viscosity

Metered volume and verified flush injection

Superior precision and accuracy

Dedicated chemical pumps

High-speed injection times
Two Catalyst units gives the ability to continue chemical delivery to all the washers when one unit is under repair or routine maintenance. This Catalyst duo will reduce the queue time while providing critical backup.
Softrol ensures that each Catalyst System comes with a powerful software package to provide real-time information and system reports.
Expanded plant management calls for the right software addition that includes:
"No-Chemical Flow" detection and alarming
Real-Time washroom monitoring
Programming watchdogs
Load weight tracking
Catalyst Network Management Reporting - a web-based reporting package
LOIS option – with our Laundry Operation Information System, dashboard reporting is available remotely via tablet or mobile phone
With a Softrol Chemical System, you will not only have a faster and more efficient way of doing things, but you will also keep employees out of danger. These systems eliminate chemical handling making your plant much safer to operate in.
With access to real-time information, you can always rely on superior precision and accuracy. Best of all, each system can be customized to your needs leaving room for expansion should your volume increase.
Contact us to learn more about how Catalyst Chemical Systems could improve your operation, today.