If you are looking for a state-of-the-art rail system to help improve your plant processes, look no further than Softrol Systems. As a leading provider of automation and technology, Softrol is the place to turn to for material handling solutions.
Softrol provides reliable rail systems for all types of industries. Softrol Rail goes a long way in ensuring that plants maximize production while cutting costs. Reduce labor, save floor space and take control of your workflow.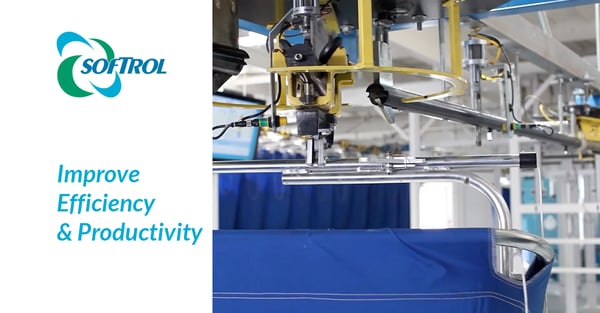 Softrol uses Melonited round steel rail and other robust components to build our dependable structures. The result of the Melonite process is a rail surface that is highly resistant to wear, fatigue and corrosion. This ensures dependable and smooth operation for decades to come.
Our unique trolley twisters help to limit the floor space requirement for sort decks and allows cross sections out in the plant for more space savings, vertically. Furthermore, Softrol Rail is quiet, creating an ideal work environment for your team.
Complemented by a powerful control system with pan-N-zoom technology, Softrol Rail is the industry leading solution. Rail operation and maintenance are simplified and critical reports and warnings help you to better manage your laundry or warehouse workflow.
Softrol Rail is custom-designed to fit to needs of any laundry or warehouse facility. No matter the industry or size of the operation, Softrol's Material Handling answers will work for you, efficiently.
Contact us to learn more about how Softrol Rail could improve your operation, today.