It's no secret that sort systems handle an incredibly crucial portion of garment processing. Manual sorting is labor-intensive with low proficiency. Automation in sorting greatly enhances plant proficiency and overall productivity.
Softrol Systems offers a variety of garment sorting systems that are perfectly tailored for your needs. With Softrol Garment Sort, you won't have to worry about flexibility within your workspace. We manufacture a sort system to meet the needs of any uniform rental facility. Our Sort designs give you the freedom to decide how your garment sorting system operates within the structure of your plant.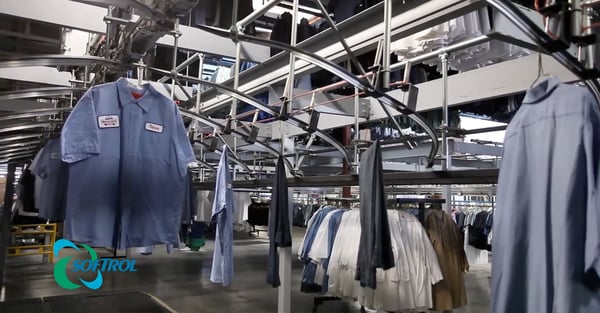 All Of The Variables: The Different Types Of Systems
Softrol Systems prides itself on providing high-end and state-of-the-art garment sorting systems. Softrol Garment Sort flawlessly sorts your garments with maximum proficiency and efficiency, resulting in higher profits and minimal labor. And, the design layout will take up minimal space within your planting operations, giving you more floorspace for other plant operations.
Softrol's Directed Sort is an add-on to your existing manually controlled system, which provides greater accuracy and comprehensive tracking data with reporting. Our Hybrid system utilizes a combination of a Directed primary sort with a fully automated final sort, and may be best for plants processing 6,000 to 12,000 garments, daily. Finally, AutoSort is a fully automated system requiring only a single operator to monitor primary sorting. Garments are automatically delivered to an induction station for final sort. Completed bundles are then delivered for transfer to post sort storage. AutoSort includes R.F.I,D. read ratings close to 100%, while processes 12,000 to 50,000 garments per day. Payback is as quick as 2-years.
The Little Things: Features Of Each System
Each Softrol sort system has the ability to read both bar code and R.F.I.D. chips, and comes complete with a high-end control system that records and showcases plant data and statistics. You can expect the best in customer defined batch processing with no split orders and loose pieces. Our scan-on-the-fly system utilizes extremely high-speed induction and sorting with no requirement for expensive "Mother Hooks".