If you are a plant owner that needs real-time access to important data, Softrol offers technology that can give you details on plant performance anywhere, at any time. Our LOIS system, or Laundry Operation Information System, gives plant managers access to data from their plant's network from any device. This can help you improve troubleshooting and decision-making operations within your plant, which in turn can lead to better production and profitability.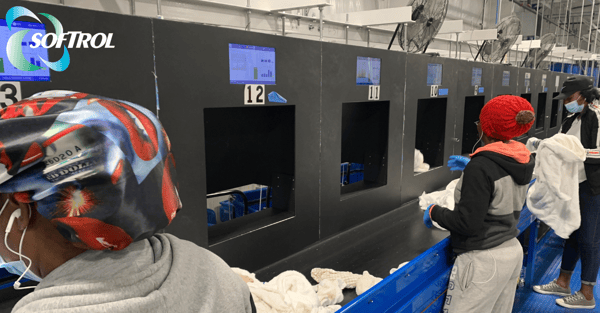 Alerts On Your Schedule
The LOIS system makes receiving alerts regarding information on your plant easier than ever. The system sends real-time alerts directly to your email address and accesses information from multiple sites instead of only being limited to one location. You have the ability to look over critical plant functions and employee performance with around-the-clock monitoring. LOIS is designed to work seamlessly with any Softrol product, with reporting accessible from smartphones, tablets, and PCs using any browser.
LOIS Rail
The LOIS system for our rail customers, LOIS Rail, is a high-powered package that includes touchscreen controls with Pan-N-Zoom technology. With this LOIS system, you can see detailed production, rail, or bag data easily. The system gives plant supervisors and operators the opportunity to get every detail regarding real-time plant production and status. Plus, as requirements change, production within the plant can be adjusted as needed. For example, if there are specific questions about what product is being washed or which customer is having items sorted, you can zoom in to see complete information.

From an equipment perspective, LOIS Rail also provides detailed data that assists maintenance personnel. It offers the ability to see status info for every input and output that the rail system has. In addition, pop-up windows can be used for details on sort bins, drop points, and bag closers. Should problems arise, you can track them with the System Health Report. It is continuously monitoring your systems and sends alerts to maintenance and production staff if there are issues. These notifications happen in real-time allowing for timely resolution with minimal downtime. With LOIS Rail, you get comprehensive information without unnecessary clutter on your overview screen.

LOIS and LOIS Rail from Softrol make it easy to get the information your plant needs at every level. Our equipment gives you access to data in real-time along with historical data for comparison. Contact us to get more information on how we can help your business.