Join us for The Clean Show 2022 presented by Texcare July 30-August 2 in Atlanta. Learn more and register here.
Since 1987, Softrol has offered innovative solutions dedicated to helping the textile services industry. Holy City Linen, a commercial laundry service in Mount Pleasant, South Carolina, wanted to expand their plant to increase production capacity. Here is how Softrol's technology was able to accommodate this request.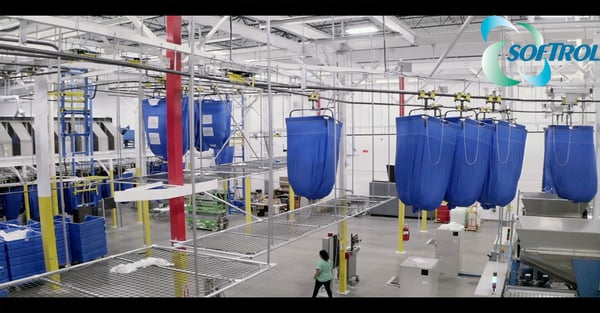 Background
Founded in 2016, Holy City Linen has focused on being "the only 100% chemical-free dry cleaners in South Carolina". An expansion was created to further support the needs of their clients in the healthcare and hospitality fields. The primary objective of this expansion was to enhance Holy City's ability to provide hygienically clean customer-owned products efficiently and productively. The project's success was based on two factors: material handling automation and wash aisle automation.
The Softrol Impact
Holy City decided on incorporating Softrol Rail to focus on soil sortation, soiled linen storage, and soiled linen delivery to the wash aisle. The system incorporates a high-speed sort deck which is fed by a cart dumper and conveyor system. Sorting goes directly to slings that move in and out of the deck until the correct weight is achieved. The soiled linen is stored overhead, leaving extra floor space for other use.

Softrol Rail uses modular components centered around a networked and distributed control system. Using the LOIS Rail software, Holy City was able to get real-time visualization of their plant, including item-specific data and status. They also had the ability to identify replacement parts and receive price quotes. By adding Softrol Rail, they integrated the platform with their current interface for automatic sequencing as well as easy transfer of customer and load data.

Softrol offers a variety of solutions that have helped companies of various sizes. We have the equipment and the knowledge to meet the needs of your operation. Contact us to get more information on how we can help your business.