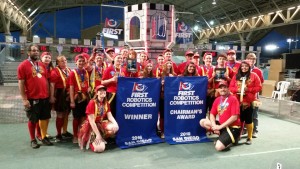 The Coconuts, the robotics team from Coconino High school in Flagstaff, Arizona, sponsored by Softrol, competed against 60 other teams at the San Diego Regional and won two major awards.
In the robotics competition their alliance (composed of 3 teams) won the championship. The Coconuts also took the Chairman's Award which is the highest award given. This qualifies the Coconuts for the World Championships held in St. Louis April 27-May 1.
Good luck to the Coconuts! We're proud of you.