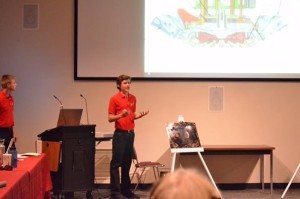 Recently the CocoNuts, the robotics team from Coconino High School in Flagstaff, Arizona, presented at the 2nd International Planetary Caves Conference at Lowell Observatory.
The CocoNuts were challenged by Northern Arizona University professor Jut Wynne to prototype a robot to explore caves on Mars.
The CocoNuts did background research, brought in guest speakers from USGS, and took a trip to the Lava Caves before settling on a hybrid design between a climbing robot and the Curiosity Drive Train. The CocoNuts had to submit a formal scientific abstract and have it accepted to be invited to present.
The CocoNuts presented their design and 3D drawings of their concept, called "CRAWDAD" or "CocoNuts Robotics All-terrain Walking and Driving Articulating Device." In the audience were professors and students from several universities, including NAU, Carnegie Mellon, and Colorado School of Mines, as well as engineers from NASA and the Jet Propulsion Lab.
The presentation was well received, and the presenters were able to answer the many questions asked during their Q&A, including a question from a JPL engineer who asked, "when do you think it will be ready?"
We're very proud of our young engineers, and especially the presentation team of Drew Stringer, Luke Peterson, and Carson Nablo, son of Don Nablo, Softrol's Director of Technical Services. 
GO NUTS!