The first autosort systems were intended for large-scale operations, and the technology wasn't suited for average laundry facilities. Today, autosortation is accessible for facilities of every shape and size - but the industry is still full of misconceptions about the availability of this time-saving technology. Whether you run a large plant or manage a small operation, get ready to learn just how convenient autosortation really is.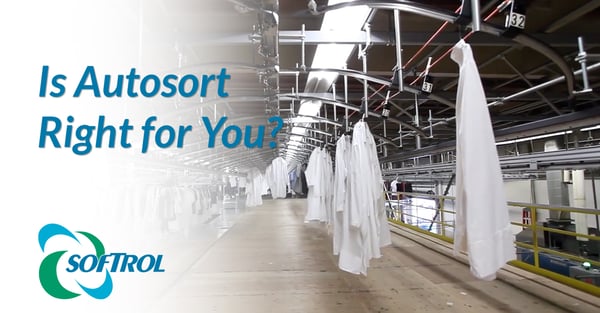 Myth #1: Autosort Systems Are Expensive
When most facility owners think about upgrading to autosort, they usually expect to pay at least $1,000,000. That amount only seems feasible for large plants that process around 20,000 garments a day, and even then, it could take years to make the profits back.
Luckily, those numbers are completely off the mark. That million-dollar price tag comes from the 1990s, when autosortation was new and the technology was significantly more expensive.
So how much will an autosort system actually cost you? Expect to pay somewhere between $100,000 to $250,000 for a startup system. You can customize automation features and choose from multiple sortation methods to find an option that fits your budget and meets your facility's needs.
Myth #2: Autosort Systems Take Up Space
If you're a facility owner, we know you're worried about floor space. If you've already installed a system that works, why would you try to add a large and clunky autosortation system to your already-crowded facility floor?
But thanks to modular autosortation technology, your new autosort system will hardly take any space at all. Most systems can be adapted to work with your existing technology, so you won't lose the cost of your previous investment. Whether you choose Direct Sort, Hybrid Sort, or the full-fledged Auto Sort system, you'll be able to pack a surprising amount of automation into the space you already have.
Myth #3: Autosort Systems Are Hard to Use
In a well-run garment facility, your operators know the technology and work in a seamless flow. Even if your staff are the best in the industry, you might be worried about teaching them an entirely new set of protocol just to make the autosort system work.
The good news is that Softrol's autosort systems are incredibly easy to use and have a fast learning curve. Our interfaces are intuitive, and your operators will have no problem integrating autosort with their current workflow.
In fact, switching away from manual sortation will actually save your operators a considerable amount of fatigue and stress. Happy and healthy employees result in better daily efficiency and a reduced turnover rate - both of which are excellent for your bottom line.
Myth #4: Autosort Isn't Worth the Cost
Before you invest in an upgrade for your facility, you should always make sure that the returns will be worth the initial investment. So how much will a new autosort system really increase your plant's efficiency?
The answer to this question might shock you. A fully-automatic sortation system can handle as many as 50,000 garments in a day with only a few operators. And in addition to the reduced labor costs, you can also expect to reduce your circulating inventory by as much as 20%.
Autosortation systems require relatively low investment and are incredibly easy to implement and use. Enjoy the benefits of reduced labor costs, simple operation, and real-time integration with Softrol's Total Plant Management system.
Take a look at our autosortation options to find a system that's right for you. Once you're ready, give us a call to discuss adding an autosort system to your facility.